Dental crowding

Crowding is one of the most common reasons for seeking orthodontic treatment and occurs when there is not enough space in the dental arch for all teeth. Because of this, the teeth begin to tilt and position themselves further forward, further back, and then overlap, trying to find the space to come out of the gum tissue.
We are therefore faced with a degenerative malocclusion, because it worsens over time and is not corrected but only with the intervention of the dentist.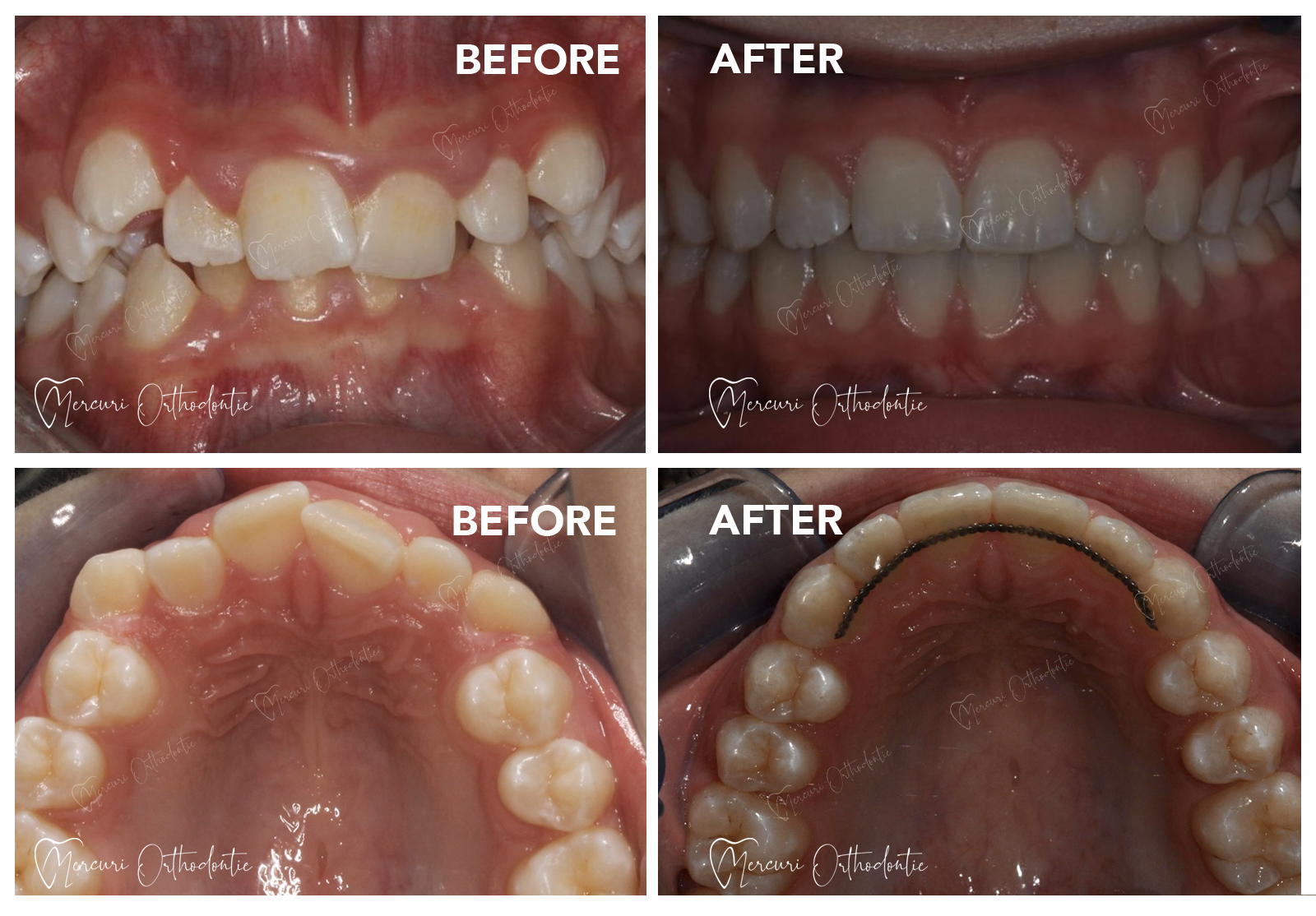 At Mercuri Orthodontie, we perform the care and treatment of dental crowding in children and adults. So let's analyze what this orthodontic problem consists of, what are the causes, consequences and how we intervene to reach a resolution. Our goal is to make patients' smiles beautiful and healthy.
What is dental crowding
As mentioned above, dental crowding is a pathological condition in which the teeth, not finding space, tend to assume an altered position. The teeth usually most affected are the upper and lower anterior teeth. So, we end up having an unsightly smile.
The origins of dental crowding date back to primitive times, when our ancestors had a larger jaw to accommodate teeth. Eating habits were also different, so the facial bones were stronger for chewing hard foods. Men today, on the other hand, have smaller bones, and that's why sometimes there is not enough space for teeth.
When you realize that your child has a similar problem, it is advisable to see an orthodontic specialist as soon as possible. In fact, the earlier you intervene, the greater the chances of success with orthodontic therapy.
Causes and consequences of dental crowding
There is always a reason for all dental disease, and it's our job to identify it. In general, there are several causes of dental crowding. There may be a genetic and familial predisposition.
Or there may be alterations in the shape or size of the teeth; bad oral habits such as thumb sucking or pacifier over 3 years old; premature loss of baby teeth, etc.
This type of pathology could have consequences not only aesthetically, but also functionally. In addition, over time, it leads to a decisive aggravation if measures are not taken in time.
The main consequences are therefore as follows:
Caries.
Problems of chewing.
Wear of tooth enamel.
Periodontitis and gingivitis.
These problems arise from the difficulty in properly and thoroughly cleaning the teeth, due to their particular position. This leads to a buildup of tartar and dental plaque which can affect the health of the teeth and gums. Therefore, other disorders may arise that complicate the clinical status of the patient in children and adults.
How we treat dental crowding
We can treat dental crowding using different kind of appliances. There are appliances with metal brackets, which represent the classic method of correcting misaligned teeth. Then there are those with aesthetic resin or ceramic brackets.
Another method we use is lingual orthodontics, where the device is applied to the inside of the tooth and is not visible from the outside.
Among the most recent methods is orthodontics with aligners, a system that involves the use of invisible aligners that correct the problem of crowding.
In contrast, extractions are generally used especially in adults when interceptive orthodontic therapy cannot be performed or in specifically cases where no other space recovery method is possible.
Parents should take care of their children's teeth by observing their development and taking them to the dentist regularly. The goal is to monitor the dentition and check that there are no abnormalities.
Interceptive orthodontics plays a central role, thanks to which we can detect the presence of problems affecting children's teeth. The development phase is the best time to achieve effective results, using the right tools.
In general, a child is always expected to be old enough before proceeding to use the device. So as soon as the first permanent teeth begin to appear, we can begin to engage in the therapeutic path specially studied for your case.
Taking care of your children's teeth means giving them a smile healthy and beautiful that will accompany them on the path of their growth.